Dashboard
Recent Press Highlights
Since July 2016, the Mozilla Foundation's work has garnered 189 stories in over 20 countries. You can find a full list of coverage here. Across all of 2016, we've earned a total of 502 stories. Here's a sampling of coverage from Q3 and Q4 2016:
Consumer Reports: 66 Ways to protect your privacy now. Consumer Reports' November cover story was an inventory of privacy and security tips for online life — and MoFo was an integral source. Mark lent a quip on the importance of automatic updates ("software updates are like oil changes — they can be a hassle in the moment but a lifesaver in hindsight") and we received a special thanks at the article's end. We're also featured prominently in a related article, The 10-Minute Digital Privacy Tuneup.
The New Statesman: The rise of digital empires. In an op-ed for one of Britain's most-read magazines, Mark writes about the need for an open internet movement. His final three sentences: "We need to make the health of the internet a mainstream issue. And we need to take action – through advocacy, education, code and public policy.  That's how we defend the internet's best nature: decentralised and free from empire."
The Register: Mozilla breathes petition-of-fire at EU copyright laws. Our Q3 copyright campaign fought for common-sense reform across the EU — and generated major buzz. In addition to the above story, der Standard and CNET wrote about our rebellious selfie app. Check out full copyright coverage report here.
El País: Mozilla stands up to the trolls. A reporter from Spain's largest daily newspaper attended MozFest and had this to say: "The Mozilla Foundation's goal is to educate users about free expression, protect privacy, and — above all — make it clear that the Internet brings more benefits than threats to humanity." (Also, cool that Michelle and Erika had their photos in the paper 🙂 Additional coverage of MozFest appeared in the BBC (

8:15

mark) and German tech magazine t3n.
CNN: How mobile apps are growing the African tech sector

During a visit to Uganda, Mark sat with CNN Africa to discuss our volunteer community and the dangers of a centralized app economy. Watch the clip above.

Kansas City Star: Virtual reality in the classroom? Hackathon explores ways to apply it to educationThis story offers a window into the virtual reality hackathon co-organized by our gigabit team. Keep an eye out for Jancie's quote. Our  gigabit work also showed up in The Times Free Press and The Chattanoogan (re: 48Hour Launch).
More stories:
H1 2016 Press Highlights
Here's a sampling of how the Mozilla Foundation has shown up in the press in the first six months of 2016. In H1 there were 313 stories about the Foundation's work in 25 countries. Coverage was diverse: there were stories about our programs, community and mission, in outlets ranging from The Atlantic and National Public Radio (NPR) to local TV news stations in Virginia, internet policy blogs in Germany and print newspapers in Austin, TX.  Below, a small sampling of coverage. (Want a closer look? Let Kevin know.)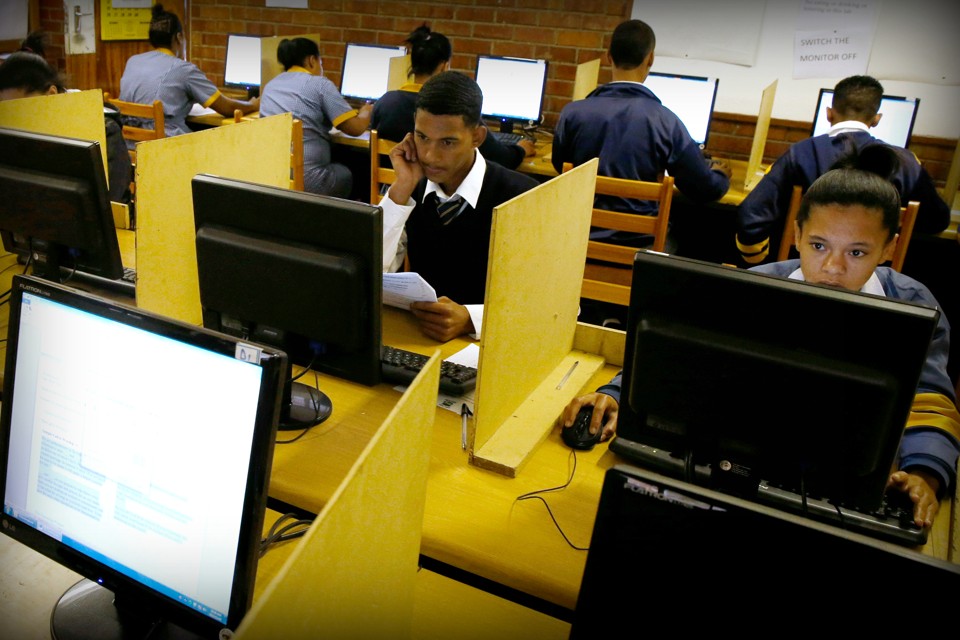 The Atlantic: How Can South Africa Kickstart Its Tech Industry?
When two reporters with The Atlantic set out to explore internet education and innovation in South Africa, Mozilla weighed in as an expert. Here, Mark sounds off on web literacy, Mozilla Learning, and our read, write, participate philosophy.  
Lifehacker: Mozilla's Web Literacy Map Teaches the Essential Web Skills Everyone Should Know
Earlier this year, the Learning team launched our interactive web literacy map — and the folks at Lifehacker took notice. Reporter Melanie Pinola writes:
"This is a great resource for parents, educators, and those catching up on basic web skills."
Engadget: Mozilla made a game to teach you the basics of encryption
Codemoji is a learning game created by our Advocacy Media team that teaches ciphers using emoji. Fun! Press agreed — folks like TechCrunch, Slate, Mashable and Quartz wrote positively about Codemoji, too.
The Austin-American Statesman: Mozilla expands its National Gigabit Project to Austin
This May, our gigabit team expanded their work to a third city: Austin, TX. Press across the state were quick to write about Mozilla's investment in gigabit technology and learning, including Austin's most-read daily paper. Lindsey spoke with their tech reporter and landed in the print edition, too.
NPR: Mozilla Foundation Backs Apple In Encryption Case With Federal Government
When the Apple-FBI story broke in February, Mozilla was one of the first organizations to voice support for Apple and upholding strong encryption. Here, Mark chats with Morning Edition, the daily program that reaches 12 million listeners, about Mozilla's encryption campaign. Related reading: Mark's op-ed on CNN.com, and interviews with The Irish Times and CBC.
The Intercept: Apple Leads the Charge on Security, But Who Will Follow?
In one of the Intercept's first stories about the above feud, Mozilla is cited as an early and vehement supporter of Apple and individual privacy and security online.
BoingBoing: App Stores: winner-take-all markets dominated by rich countries
We worked with our friends at Caribou Digital to author a report on inequality created by today's app economy. Here, Cory Doctorow writes about our findings.
WIRED Italy: Mozilla: The giants of Silicon Valley have too much power
Mozilla believes the internet is at its best when it's decentralized. This piece in WIRED Italy details that thesis, touching on everything from Free Basics to the legendary Firefox advertisement in a 2004 issue of The New York Times.
NBC Charlottesville: Albemarle County Teacher Preps for Overseas Open Web Festival
Kim Wilkens, a computer science teacher and long-time Mozillian, is a skillful spokesperson for MozFest in this NBC dispatch from Charlottesville, VA.
Software Development Times: Ford and Mozilla are looking for Internet advocates
When the Open Web Fellows team opened the call for applications earlier this year, trade publication SDF shared the news — and gave kudos to 2015 fellow Gem Barrett.